"A Place for well being for mind, body & spirit"

Phone: 781-721-7299 * Email: Pearlan@aol.com
---
MENTAL TRAINING
FOR EFFECTIVE EXERCISE & WEIGHT CONTROL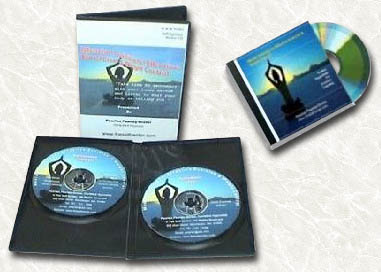 ---
A Self-Hypnosis Audio CD and a Video DVD Activation Routine Program
It is time.
Time to begin your Mental Training for Effective Exercise & Weight Control.
This self-hypnosis, audio recording CD and DVD Activation Routine Program uses positive and powerful suggestions embedded throughout the CD that address your exercise and weight control needs. These same suggestions appear on the DVD in audio/visual format. This DVD is a Powerful Activation Routine Program that is designed to be used on a daily basis, in conjunction with the CD "Mental Training for Effective Exercise and Weight Control".
There is no other Program of its kind at this time.
Now, in order for the suggestions to have significant impact, you need to utilize the CD in combination with the DVD activation routine program. Listen to the CD daily. Allow yourself to settle down and settle into your most comfortable position, relaxing fully, so your subconscious mind can be appropriately opened to the messages you are about to experience. Then each time you view the video, you will activate all the positive and powerful messages contained in your self-hypnosis CD at a subconscious level. Watch the DVD while exercising for a more powerful impact.
Did you know that Theory of the Mind teaches that the subconscious mind always wins out, over the conscious mind? Therefore, the idea is to be sure that the subconscious mind is in the "RIGHT FRAME" of mind to achieve your goals. Understand that the subconscious mind does not distinguish between real or imagined. When you present these most positive and powerful suggestions to the movie screen of your mind, the subconscious mind sees them as real and happening. It then latches onto these thoughts and behaviors and believes them to be vital to you in achieving the changes or enhancements you want to make for yourself. Engage in this "RIGHT" thinking and behavior for 30minutes/30days and you activate the changes that you have set out to accomplish.
It's a no-brainer!
In a few days, you will be on your way to achieving your goals with
"Mental Training for Effective Exercise & Weight Control".
Follow the 30/30 rule. Put your mind to it and do it right.
---
SOME THINGS IN LIFE ARE FREE
PURCHASE the TOTAL PROGRAM, INCLUDING CD/DVD NOW for $39.95
and receive the
NON-HYPNOTIC CD
MENTAL TRAINING FOR EFFECTIVE EXERCISE & WEIGHT CONTROL
FREE
This CD can be played safely, while walking, exercising or driving.
It includes over 76 direct suggestions that keep you on track with your exercise and weight control.
These suggestions are repeated three times on this CD.
(This Non-Hypnotic CD can be purchased separately for $12.99 plus tax/shipping)
CALL
Pearlan at THE SELF CENTER
781-721-7299
Place your order now.
---
---